Case No. : Guangzhou Airport
A SURPRISE UPON ARRIVALS

浸入式隧道位于广州白云国际机场二号航站楼(T2)的国内到达区域,是全球难得一见的标志性媒体。
The Immersion Tunnel, located in the domestic arrival area of the Guangzhou Baiyun International Airport Terminal 2, is one of the most iconic media in the world.
A UNIQUE MEDIA IN THE WORLD


隧道中央顶部安装了通透的波浪状LED显示屏,两侧共有十个巨型动态彩色灯箱及十个4K高清电子屏。隧道在设计上将美学与现代科技(AR技术)融为一体,未来的开发与应用将可呈现无尽可能。
This one-of-a-kind media is equipped with a wave shaped LED screen at the center of the ceiling, 10 giant animated color lightboxes and 10 4K screens equally spread between both sides. From a design perspective, the tunnel integrates both aesthetics and modern technology (AR).

隧道总面积超过了900平方米,总长约51米。巨大的空间展示吸引眼球,并为抵达旅客带来难忘的经历。
With a total area exceeding 900 sqm. and a length of around 51m, this incredible media won't fail to catch passengers' attention when they first arrive in Guangzhou.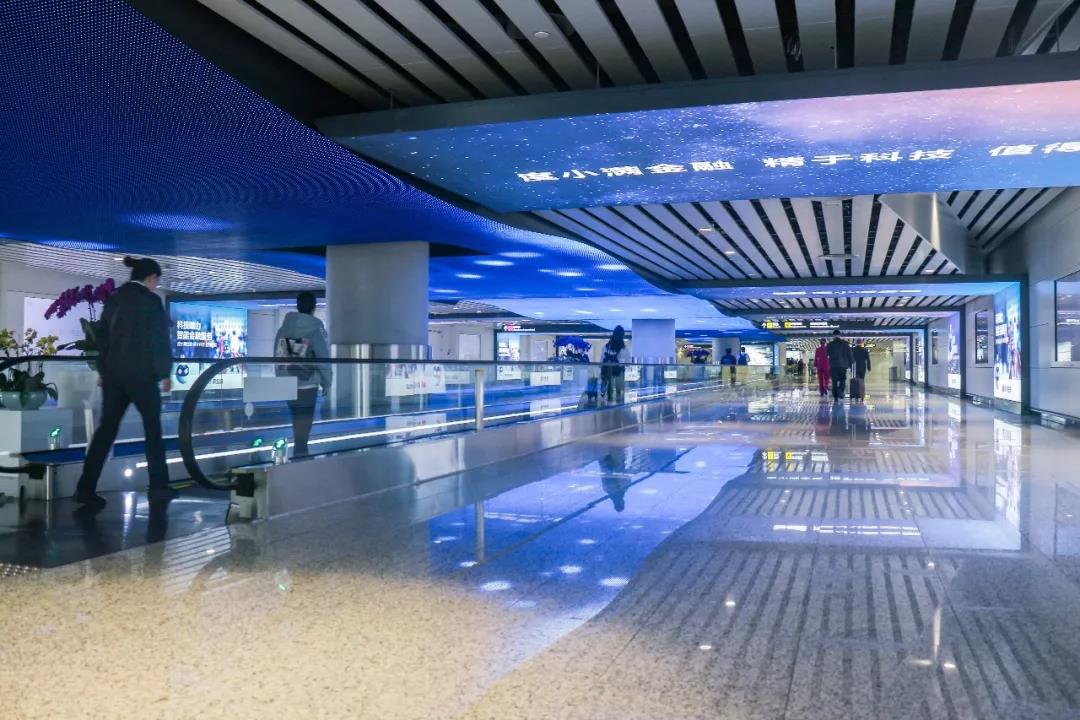 绝佳的交流平台
AN AMAZING SHARING PLATFORM

品牌客户可充分利用该标志性媒体,为旅客传播品牌理念,交流创意想法,以及进行各种互动。德高将竭诚为客户提供优质创新的平台。
It is a prefect media to deliver message about the brand spirit, share creative ideas, and interact with travelers. To help our client bring their identity to the public in a unique and innovative way is one of the goal of JCDecaux.


誉满全球的优质干邑专家人头马V.S.O.P携手艺术家Matt W. Moore为近三百年的干邑传奇品牌打造的前卫视觉篇章,亮相于广州白云国际机场第二航站楼时空隧道。
To celebrate its centuries-old story, the world-renowned cognac expert Rémy Martin V.S.O.P teamed up with artist Matt W. Moore, to introduce its brand new artistic chapter on the Immersion Tunnel in Guangzhou Baiyun International Airport Terminal 2.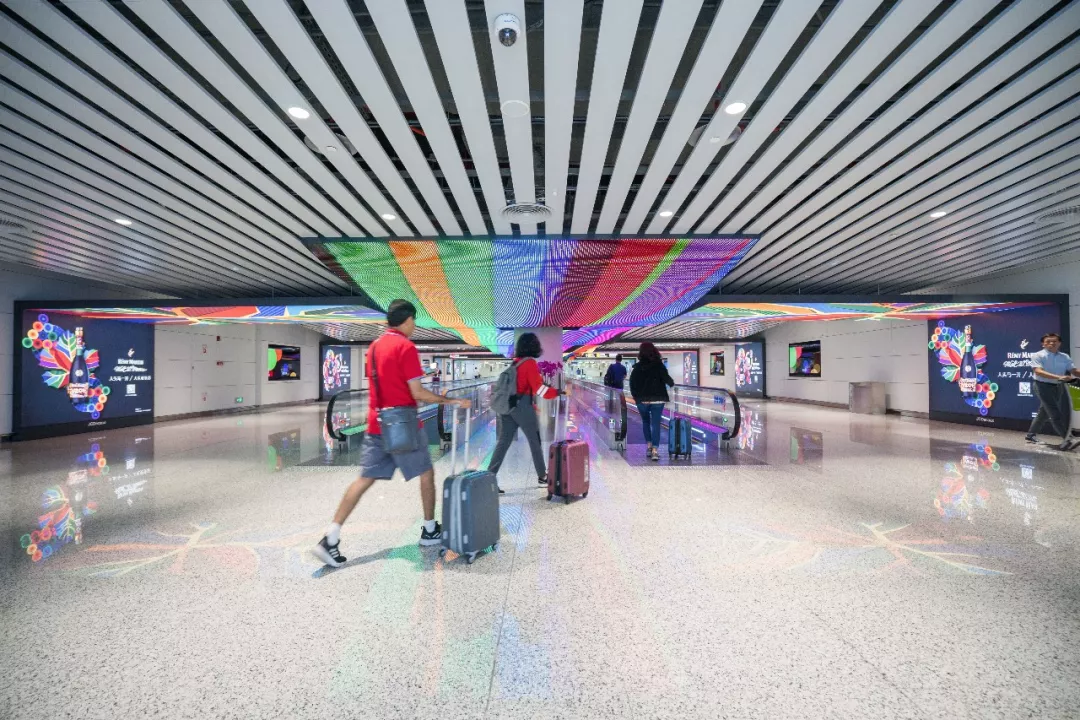 极具张力与色彩搭配的视觉元素为人头马V.S.O.P注入了全新魅力,也为抵港旅客带来了前所未有的浸入式视觉体验。
The colorful elements have brought a brand-new identity to Rémy Martin V.S.O.P and opened the way for an unprecedented immersive visual experience to arriving passengers.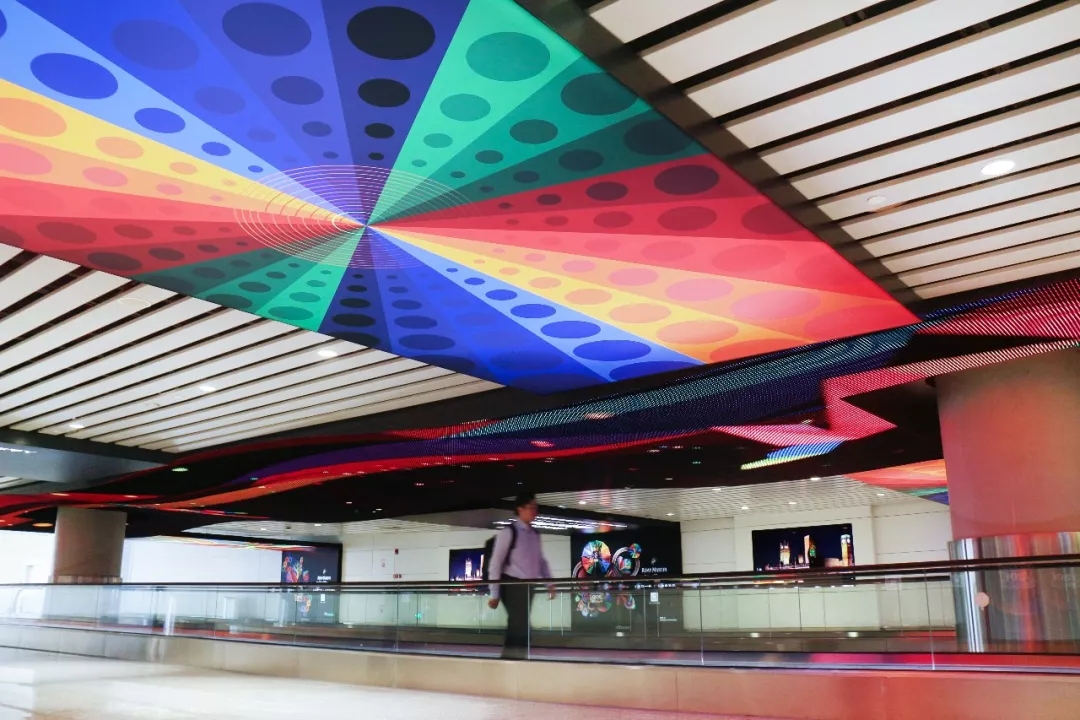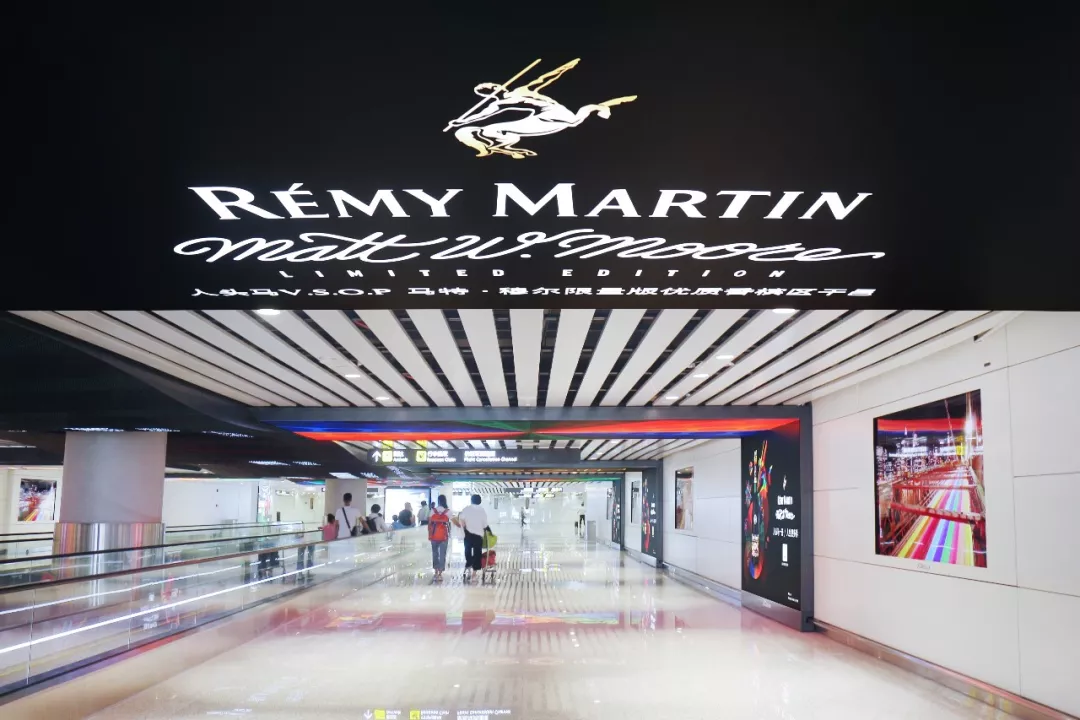 华为云利用声光电技术,为往来时空隧道的到达旅客带来了一场极具未来感和科技感的视觉盛宴。
Using digital and lightning technology on the immersion tunnel, Huawei Cloud surprised T2's arrival passengers with a great show of future service and technology.

蓝天白云呈现在隧道顶端的超大波浪形LED屏幕,美丽的地球、翱翔的飞机、参天大树、奔跑的人们在两侧相互辉映……为旅客带来置身其中的漫步云端体验,感受云计算和智能世界所带来的无限魅力。
The huge wave LED screen at the top of the tunnel showed the blue sky and the clouds. On both sides were displayed connected earth, flying planes, giant trees and running figures. It gave passengers the impression of walking in the clouds and invited them to enjoy the charm of cloud-based smart computing in a connected world.